SGK has transformed how the world treats and talks about breast cancer and has mobilized the largest and most passionate community of cancer survivors in the world.
We love to hear from our survivors! If you would like to send a picture and/or share your story, please send it to info@komenkentucky.org.
Stephanie Good
Stephanie Good of Louisville was diagnosed with triple negative breast cancer in July 2017. After a double mastectomy and chemotheraphy, Stephanie was motivated to participate in her first Race for the Cure in October of that year. "I thought that would be the only thing I would be involved in, but I have had time to reflect and realized that so many people were there for me, that I feel it is time for me to be there for others who are now going through breast cancer." Since then, Stephanie has been a tremendous volunteer for Komen Kentucky – helping with the Race store in Oxmoor, the WWE event, the Pink UnTied, and other opportunities in the office. "I want to be around other strong women who have battled and won, or with women who are still battling. One thing I would tell someone after being diagnosed with breast cancer is that there is life after your diagnosis! You have the right to yell, scream, cry, punch your pillow, or be angry, but don't stay there!! Get up, hold your head up high, and know that many, many people have your back, even if in that moment you feel alone, you are loved."
Jo Robertson
Jo Robertson, 77, of Lexington, KY, was teaching school at Breckinridge Elementary in 1994 when she was diagnosed with breast cancer for the first time.  She was treated with radiation and felt great.  She later helped work on the very first Lexington Race for the Cure and spent many years running in the Race.  She still has several of the first posters that were made.  In 2011, she was on a mission trip in Kenya and discovered another lump.  When she returned home, she had a double mastectomy.  In 2017, she won her age group in the Bluegrass 10,000, but a few days later a vertebra burst and when they prepared her for surgery, they discovered the cancer had metastasized to her bones.
"I would say to others:  'Never give up! Find yourself excellent medical care. I really love the people at Markey.  Cancer changes your life in so many ways, but look for the good, as well as the bad.  The one thing that changed for me that was so very positive was that cancer taught me to live in the present moment. Yesterday is gone and tomorrow is out of sight, so enjoy today!! We all know that, but cancer changed my thought process and I learned to love the precious present.  Thank goodness for Komen and all organizations and people who work to find a cure and to give hope and strength to others."
Lori Holland
Lori Holland, of Prospect, KY, is a 37-year survivor who has participated in 21 Race for the Cures and climbed two mountains with other survivors (Mount Inspiration in Asheville, NC and Mount Aconcagua in Argentina). She says her involvement reminds her to be thankful for every year she can walk with her fellow survivors.
She was a school principal when she found her 1mm lump through self-exam in August 1981. Her "very progressive gynecologist" sent her to a surgeon right away. Fortunately, she had no lymph node involvement, which she believes is because she acted upon the lump immediately.  "At the time, there was no protocol for treatment for non-involvement in the nodes," she noted. She had a modified mastectomy, followed by reconstruction six months later. After her surgery, she scheduled a mobile mammography unit to come screen her staff. The only male teacher encouraged his sister to get screened and it turned out she found a lump!
"I have been blessed ever since with good health; I exercise, eat right, and regularly have follow up exams."  She volunteers throughout the community and is actively involved with book clubs, her gym, and her 50+ year bridge group.
"I would tell all survivors to share their stories with others and to follow your health."
Malinda Carl-Rummage
As a fit, young owner of a Jazzercise center in Bardstown, Kentucky, Malinda Carl-Rummage was devasted when she learned she had breast cancer at the age of 35. It was discovered when she volunteered for a study at the OB-GYN office where she worked. She is a fighter, though, and did not let the eight chemotherapy treatments, 29 bouts of radiation, a double mastectomy, and a complete hysterectomy slow her down. Instead, she embraced it and allowed her local paper to follow her through the journey. She said some moments were hard to share with the public, like shaving her head, but the articles helped so many people in her community, she was proud to have been involved. She is now a ten-year survivor and feels like she is in even better shape than before the diagnosis. She was involved in a "Look Good, Feel Good" DVD for other breast cancer survivors and is happy to be a resource for others going through the process.
Nicole Key
Sports have been a way of life in Nicole Key's family. While that may sound like a strange way to start a story about breast cancer, it will make sense in a moment. Nicole has a family history of breast cancer so she has been a long-term supporter of breast cancer awareness. In January 2017, it became more personal, though. She and her mother were both diagnosed with the disease within a week of each other.  Her mother was diagnosed with stage 4 metastatic breast cancer; and then, at the age of 45, Nicole was diagnosed.
"I am the youngest in our family tree of breast cancer to be diagnosed.  I had stage 2B on my right side and stage 1 on my left side.  At that time, I realized that I needed to suck it up and get my game face on.  I have two sons who have a lot of football and baseball games left for me to see. I also knew that they needed to be concentrating on school and sports and not worrying about what was going to happen to their mom.  My husband and I teach our kids to never give up, to work hard to reach your goals, to fight through pain, and to play with all their heart.  So guess what I am going to do…practice what I preach.  GAME ON!"
Sherry Tracy
In January 2017, Sherry Tracy of Smithfield, KY had a routine mammogram. Since she had dense breasts, she wasn't alarmed when she was called back for extra imaging, but when she got the results – everything changed. "I was at work when the doctor's office called and said they had bad news. I found a co-worker to sit with me and listen to the call because all I heard was: 'You have breast cancer.'"  It was stage 1 ductal carcinoma in situ (DCIS).
Luckily, the cancer was found early, giving her time to get the genetic testing results back before making her decision to do a lumpectomy or a mastectomy. It was a long three weeks of praying for negative results. However, the genetic counselor confirmed that she had the BRCA2 gene mutation. "Having the BRCA gene mutation isn't a death sentence. I made the decision to have a bilateral mastectomy and began reconstruction in late March 2017.  The mastectomy was physically and mentally harder than I had imagined." But Sherry was blessed with great doctors, and family and friends who helped her through her surgeries and recovery process.
"I walked in my first Susan G. Komen Race in October 2017.  I have been a recipient of Komen's great causes for breast cancer patients.  I needed a prosthetic/bra and was happy that they were able to help me feel whole again."
Time truly heals all pain.  Sherry feels very blessed to be a survivor and offers this advice to newly diagnosed people: 1) Join a support group or two. Other survivors gave her hope and encouragement. 2) Find a Bible verse to carry you through it all – hers was Joshua 1:9.  3) Surround yourself with friends and family who are positive, and let them support and help you through this.
Carolyn Orbell
Louisville, KY – When Carolyn Orbell's doctor told her to get a baseline mammogram, she was insulted. In her mind, that was something for "old people" and at 38, with no family history, she didn't really think she needed one. He said, "please yourself, but if something shows up down the road, we won't know when it got there."
So she had the mammogram and found something was already there! Thanks to catching it early, she celebrated 30 years as a survivor in November 2018. "I try to participate each year in the Komen survivor parade before the Race for the Cure. My sister, Sally Kircher (pictured here with Carolyn, who is on the left) is also a survivor, but her knees will not allow her to do the entire walk, so we always try to show up for the parade because people who are just diagnosed have said that those of us still going after 20 years give them hope."
She feels fortunate to have walked in the Survivor Parade on Oaks Day in 2010 at Churchill Downs. The roar of the crowd is something she says she will never forget.  "Not all of my family has had a happy ending. In 2012, we lost our only niece at age 42 to breast cancer. I hope I live long enough to see this horrible disease that affects so many wiped out."
Carol Simpson
Carol Simpson of Lexington, KY was 42 when she learned that she had breast cancer. While the news was not a surprise since she was being watched closely for it (she once had four mammograms within a 13-month span), she says that now, five years later, "it sometimes still feels like I'm living someone else's life."
She was a single mother of a teenage son at the time so she relied heavily on her faith, friends, and siblings to help her through the diagnosis and double mastectomy. While she knew she could not control what was happening, she felt she could control her approach to it: "Face it, handle it, and move on."
She advises others going through the process "to not give up on yourself before you have even started: it's merely a chapter."
We appreciate Carol's support of Komen Kentucky and all of her volunteer efforts.
Kelly Gorbett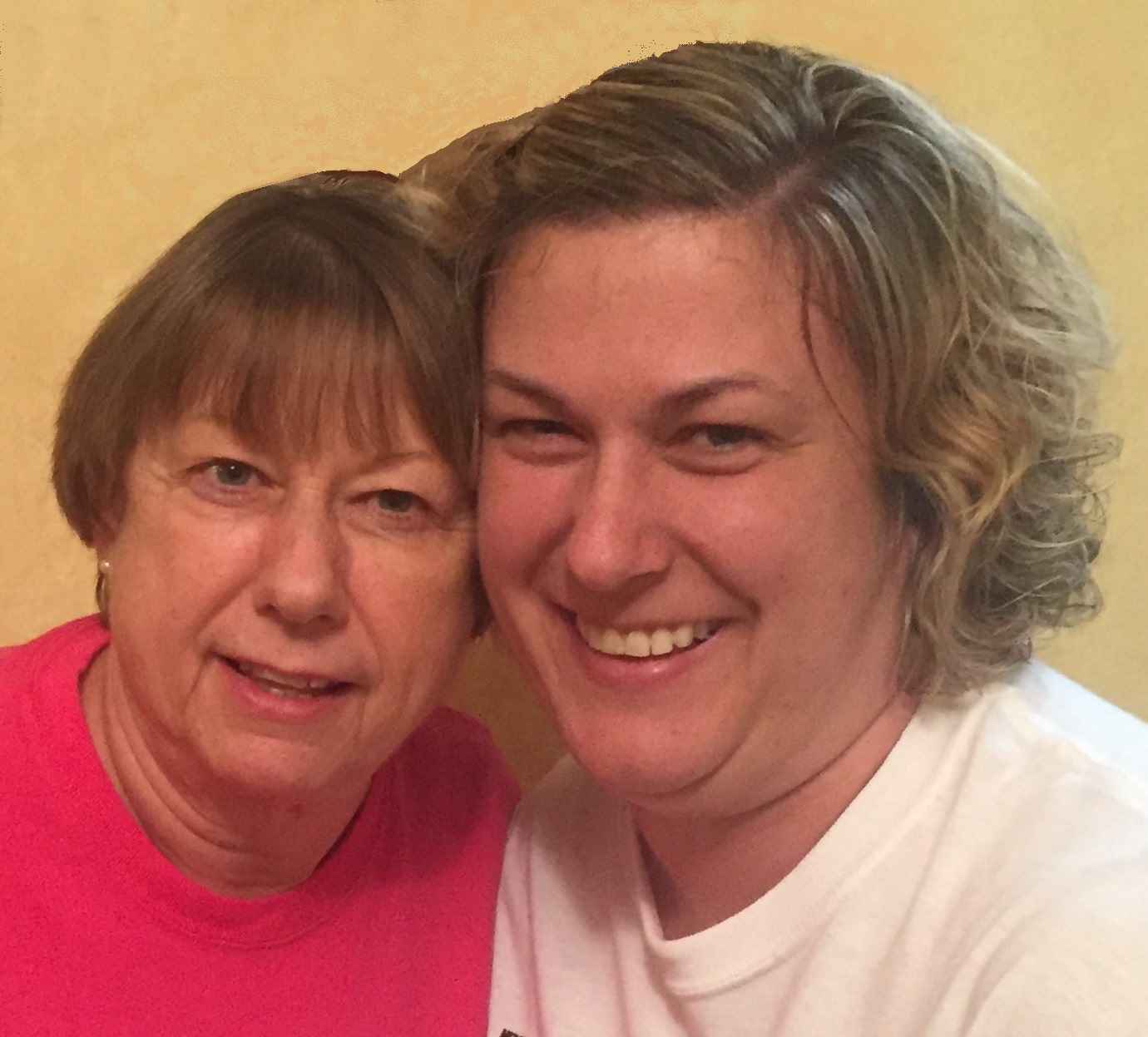 Kelly Gorbett of Richmond, KY, works as a school psychologist for Fayette County Schools. She is trained to help people deal with stress, trauma and other issues, so when at age 38, she was diagnosed with stage 1 triple negative breast cancer, she took a deep breath and handled it.
She had discovered the lump herself in August 2016, and doctors confirmed it was cancer. While she was devastated, she wasn't surprised since her mother, Linda Gruner (pictured here with her) had been diagnosed with the disease ten years prior.
Kelly had a double mastectomy in October 2016, followed by multiple rounds of chemotherapy which ended in April 2017.  Prayer and the immense love of family and friends helped her to stay positive and strong throughout her journey. She now copes with lymphedema, and is learning to live a new normal, but she is grateful for the outstanding care she has been given throughout the process.
Over the past two years, she has volunteered for Komen thanks to a close friend who is also a breast cancer survivor.  "I have met so many wonderful people through Komen, and know that my volunteer work has truly helped me on my journey as well." She advises other women or men going through treatment to try to stay positive, never be afraid to ask for help, and embrace the love and support of family and friends!
Norma Jean Burden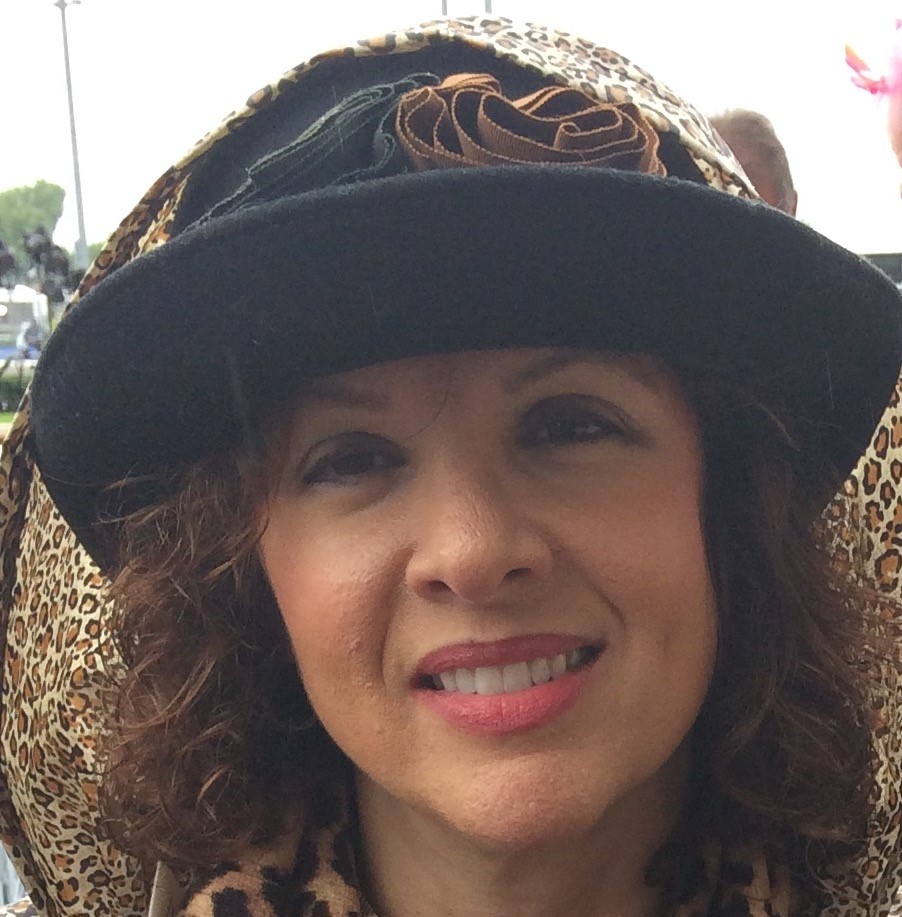 Norma Jean Burden of Louisville says that she had never been sick in her life before being diagnosed with stage 1, HER2+ breast cancer in January 2009. She was in shock when the nurse called her with the results of her routine mammogram. The first thing out of her mouth was "What do I do?"
The nurse helped her find a surgeon and she had a lumpectomy a few weeks later, followed by 33 rounds of radiation. She started chemotherapy in July. "My hair fell out at about round three. I could feel it happening. I went to a beauty school across the street and a very nice instructor took me to the back of the salon, covered the mirror with a black drape, and just shaved away."
She stresses that the best thing people can do when they have a friend or family member going through breast cancer is to "listen, just listen, not say anything, just listen." She said that she was lucky to have that support like that.
Marletta McDermott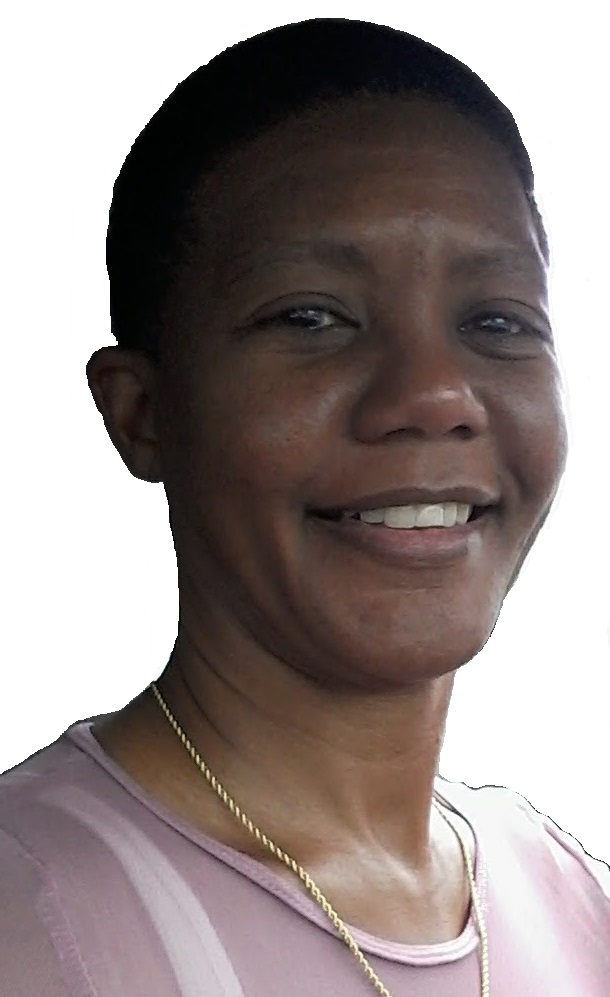 Marletta McDermott was diagnosed with ductal carcinoma in situ in April 2012 when she was 39. She was the seventh person in her family to have the disease. Her mom, two aunts, two sisters, and a cousin had also been affected.
Luckily, she caught it early and did not have to have chemotherapy nor radiation, although she did have a bilateral mastectomy with reconstruction.
When she saw a notice on Facebook about the Colors of Promise breast cancer outreach group in April 2013, she was eager to get involved to help spread the word about the importance of getting screened. "I encourage people to keep an eye on their health. Don't let the little things turn into something bigger." She knows firsthand that catching it early can make all the difference. She feels blessed to be living life to the fullest.
Leslie Webb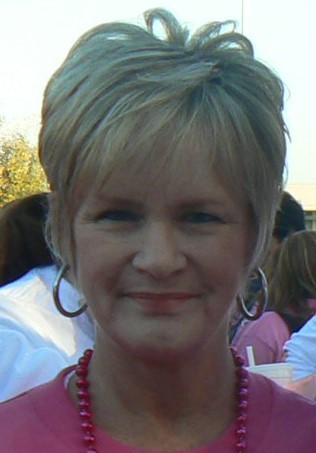 In August 2006, two weeks before her 47th birthday, Leslie Webb went to the doctor to hear the results of a biopsy that had been done after a routine mammogram had shown suspicious signs. Since she felt she was "way too young" to be diagnosed with breast cancer and didn't have a family history of the disease, she had not taken anyone with her to the appointment. When the doctor announced it was ductal carcinoma in situ (DCIS) and she would need a mastectomy, Leslie wanted to run to her car and cry. She shared the news with her husband and three children, then spent the rest of the afternoon on the internet, learning as much as she could about the disease.
She decided not to have breast reconstruction at the same time as her mastectomy because she was interested in the tram-flap surgery and needed to quit smoking first. However, once she was ready a few months later, she had no desire to go back to the hospital. Since she had not needed radiation or chemotherapy and was feeling better, the thought of being a patient again did not interest her. After retiring in 2015 from her 31-year career as a social worker, she finally began her breast reconstruction process. She opted for saline implants at this point and, in hindsight, wishes that she had opted for them at the time of her mastectomy.
"I have been blessed to meet many other survivors throughout the past 12 years. I hope I have been a good support to others. I know how overwhelmed I felt during those first few months and how lucky I was to have so much wonderful support from family, friends, and co-workers."
Emily Roberts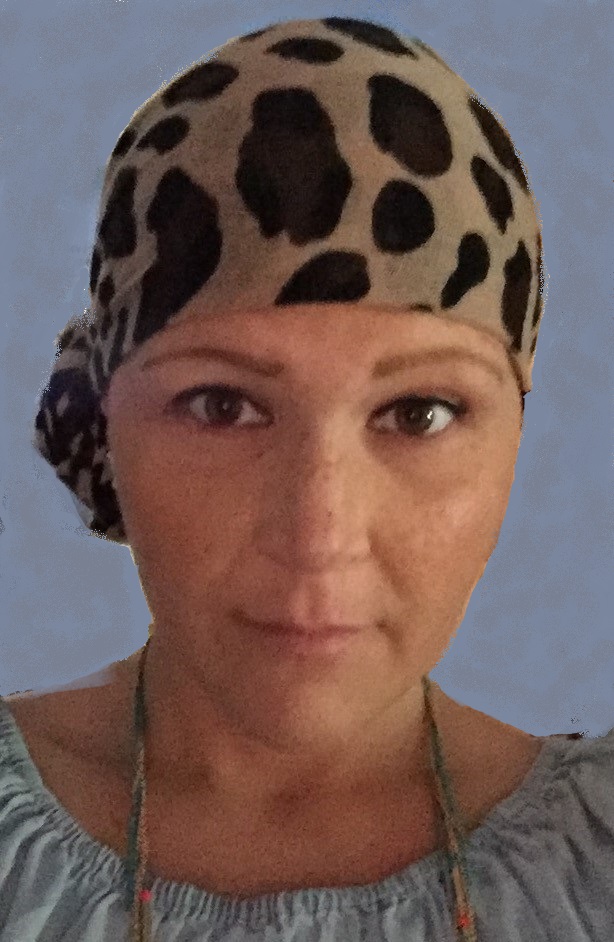 "It's a good sign it hurts," a breast cancer survivor told Emily Roberts in the fall of 2016 when Emily told her she felt a lump in her breast. Emily then did a little research, and let the lump go for two period cycles. But, something just didn't seem right. She works with children, so she is constantly fatigued, but this was a different fatigue.
Her breasts were inflamed and tender, and she remembers having to go up two bra sizes, but she brushed it off as hormones. A bout of the flu finally prompted her to go to the doctor. "He felt the lump and said he was pretty sure with my age (32), it was a fibroid adenoma, but sent me for a mammogram and ultrasound. I remember the radiology tech asking me if I had ever heard of 'ductal carcinoma.' After that, I knew something was wrong, and my world was about to be turned upside down."
Emily feels fortunate that she caught it when she did since it was aggressive stage 2B breast cancer, yet her PET scans came back clear. Now, after 16 rounds of chemotherapy and two surgeries later, she is thankful to be in remission and still standing. "I can call myself a 'survivor.' And thanks to the wonderful ladies at Komen, I was the 2016 survivor co-chair for the Lexington Race and got to help others going through this journey. I got to be there for them and let them know they are not alone."
Phyllis Lee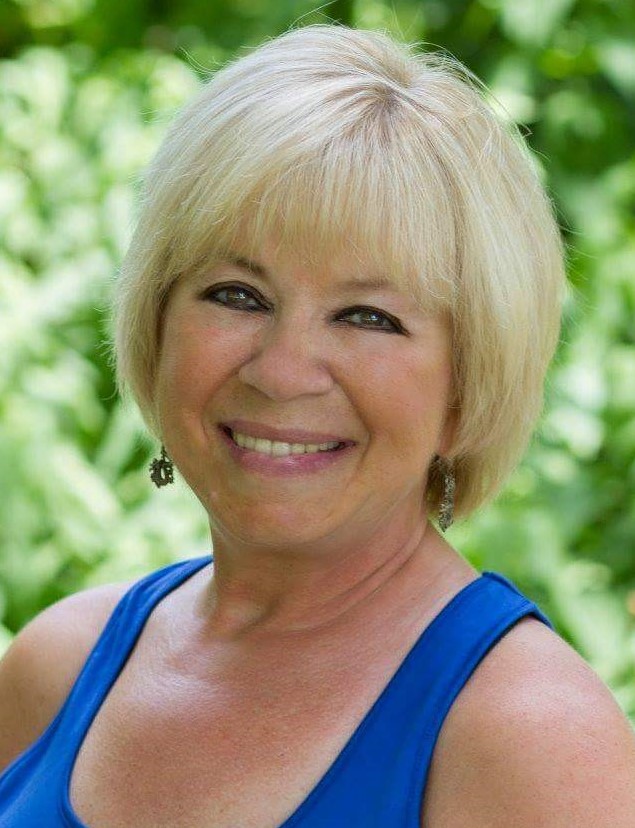 With both her mother and grandmother passing away from breast cancer, Phyllis Lee started getting mammograms in her twenties – and for years, the results were good. When she turned 50, she realized she had outlived her mom by a year. At 51, she got a call that she had an abnormal mammogram. She was sent to a surgeon, but didn't take anyone with her since she wasn't expecting bad news. When he told her she had cancer, her life flashed in front of her. "I knew how lost and sad I was when I lost my mom and I didn't want that for my son." Her cancer was not stage 3 but grade 3, invasive ductal carcinoma, HER2 positive. It was caught early, thanks to her diligence in getting annual mammograms, but it was very aggressive. She had a lumpectomy, four rounds of chemotherapy and 33 radiation treatments. She continued to work throughout her treatment because she felt she "didn't have a choice, being single and living by myself."
"After my pity party, I knew I had to snap out of it. I stayed as active as possible. I may have had cancer, but the cancer didn't have me. Regretfully, for the first five years, I lived under a rock. I wasn't involved with support groups because I never knew what was out there. Being sort of shy, I also wouldn't go because I felt like I wouldn't know anyone nor fit in. Was I ever wrong! When I finally accepted an invitation, I made wonderful new friends who got me involved in so many new events. Since 2010, I have not missed the Komen Race for the Cure or any other event that is offered to survivors."
Though she feels she "went through hell," she says she "probably wouldn't change it because "it has made me a much stronger, outgoing person. I take nothing for granted and live each day to the fullest. I am almost 64 and going strong." Since being diagnosed, she has run three half-marathons, joined the Derby City Dragons, (a breast cancer survivors rowing team) and become an active volunteer for many organizations. "I am 14 years cancer-free. I hope I can inspire one person to stay active. Never give in or think you can't do something. Get out of your comfort zone; you will find you are capable of doing things that you never imagined!"
Abby Hyland Shipley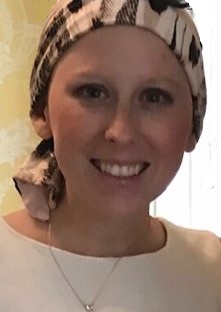 Meet Abby – she was married in September 2017, but back in February 2017, her wedding was not her top priority…  She was too busy learning all there was to know about stage 3 breast cancer because at the young age of 25, she had just gotten diagnosed with it.
"I can't even really remember those days because I was so terrified and in shock that I couldn't think of anything," Abby noted. "I remember having to have two of the scariest tests after my mammogram and double mastectomy – a full body scan and a full bone scan to see if the cancer had spread. Fortunately, I caught it when I did and the results were clear."
With that peace of mind, and with chemotherapy and reconstruction surgery behind her, she was finally able to get back to focusing on the next step of her life – her wedding.
Melba Smith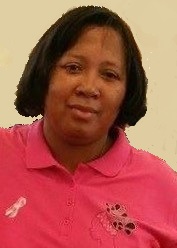 Melba Smith is a breast cancer survivor who has been a volunteer for the Lexington office of Komen Kentucky for more than four years. She started as an outreach volunteer for Colors of Promise, SGKK's educational ambassador outreach program for African Americans, and is now the community outreach chair. With her involvement, Colors of Promise was able to reach over 8,000 parishioners during its Pink the Pews events in October 2016, educating women of color on the warning signs and risks of breast cancer. If you would like your place of worship to be involved in this year's event, please contact our office.
Melba works for UK Healthcare and enjoys spending time with her grandchildren: Corey, Corbyn, Courtlynn, Mariah, and TJ. She also loves to travel – especially on crumailto:outreach@komenkentucky.orgise ships to places like Puerto Rico, St. Thomas, the Bahamas, and Belize.